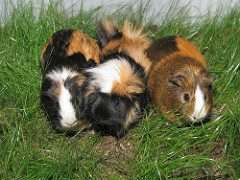 Guinea Pigs, like other animals that are adopted as pets, need new homes for all different kinds of reasons, and normally it is not due to any fault of their own. A beloved pet may often need to be rehomed due to an owner's lifestyle changing, but unfortunately too many are bred irresponsibly, neglected or unwanted.
Unfortunately, all over this country, there are many hundreds of rescue guinea pigs at animal rescue centres who are waiting for a new home. It is always preferable to give a home to a rescued guinea pig instead of buying one.
When you visit a rescue you can also observe the conditions a guinea pig is being kept in. That is the exact opposite of buying a guinea pig at a pet store. Although it is clear they are being kept at a store, prospective buyers need to wonder how these breeding guineas are being kept (usually for supplying a endless supply of new babies to the pet shop)? You might be supporting a guinea pig farm inadvertently.
Also keep in mind that there is always advice and help available from reputable rescue organisations and that welfare of the guinea pigs will always be their top priority.
Consider rescue. Instead of being part of the problem, be part of the solution instead.
Reasons why you should adopt a rescued guinea pig instead of buying one:
– Rescued guinea pigs coming from a reputable organisation will be assessed so that it can be matched to the home that is most suitable. Their previous history might be known, however even when there isn't any information available, the rescue organisation's staff will spend time learning what the guinea pig's preferences and personality is.
– Advice, support and help are always available. Advice is offered by most rescue centres whenever you are experiencing any difficulties. This can be very reassuring when you have concerns, especially if this is the first time that you have owned a guinea pig. Prior to adoption there are also care and preparation sheets that are available.
– Why purchase one when you have the opportunity to donate and adopt an unwanted, neglected, homeless or abandoned guinea pig? There are always many choices available, including different personalities, coat lengths and colours, old or young. You also will be assisting other guinea pigs who are in need, by making space available for another needy one along with your financial contribution.
– Some rescued guinea pigs might be more challenging due to previous bad experiences or lack of handling. However, they can be even more rewarding. If you take the time with your rescued guinea pig to develop a close and trusting relationship, then it will be a very satisfying personal accomplishment.
– If you have a guinea pig already who wants a friend, a majority of reputable rescues will guide you through the entire introduction process. It isn't always a straightforward procedure to pair up guinea pigs, but this is something that rescue workers understand and will take one back if things don't end up working out.
– The guinea pig will have had its health check, been bathed and given mite prevention treatment. You will also be informed of any future veterinary needs and health issues. The rescue will also make sure you don't take the wrong sex of guinea pig or a pregnant sow.